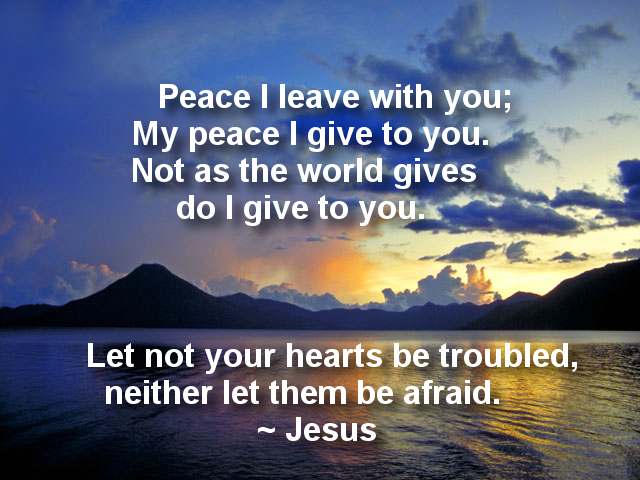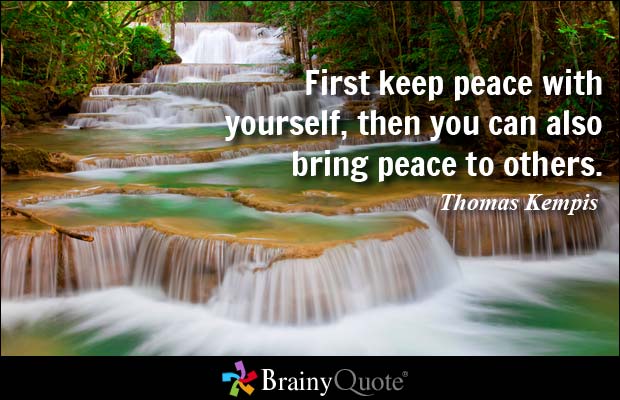 Christian Books – Donna Louis – Peace – For to be carnally minded is death; but to be spiritually minded is life and peace. – Romans 8:6
What does the word peace mean? The dictionary definition states:  a state of tranquility or quiet. Christian Books – Donna Louis – Peace.
We should strive for peace in all situations, such as:  War – Then Jesus said to him, "Put your sword back into its place. For all who take the sword will perish by the sword. – Matthew 26:52. Love – Charity suffereth long, and is kind; charity envieth not; charity vaunteth not itself, is not puffed up, Doth not behave itself unseemly, seeketh not her own, is not easily provoked, thinketh no evil; Rejoiceth not in iniquity, but rejoiceth in the truth; Beareth all things, believeth all things, hopeth all things, endureth all things.  Charity never faileth: but whether there be prophecies, they shall fail; whether there be tongues, they shall cease; whether there be knowledge, it shall vanish away. – 1 Corinthians 4-8. Enemies – "But I say to you who hear, Love your enemies, do good to those who hate you, bless those who curse you, pray for those who abuse you. To one who strikes you on the cheek, offer the other also, and from one who takes away your cloak do not withhold your tunic either. Give to everyone who begs from you, and from one who takes away your goods do not demand them back. And as you wish that others would do to you, do so to them. – Luke 6:27-31. Christian Books – Donna Louis – Peace.
So what can we do on a daily spiritual basis to instill peace? Let's look at an acronym for peace and start there. Christian Books – Donna Louis – Peace.
P = Profess – Everyone of us has had a godly experience of some sort that we know human flesh was incapable of making that situation even happen or happen as swiftly as it did. In my situation it was to quit smoking instantly after 20 years of smoking everyday with no patches, smokeless cigarettes, or anything at all. Now that was a miracle and I've never gone back. Whatever your experience is profess it to the world what God has done for you.
E = Educate – Talk and teach others about how wonderful it is to be a child of God. For God so loved the world, that he gave his only begotten Son, that whosoever believeth in him should not perish, but have everlasting life. – John 3:16.  He that spared not his own Son, but delivered him up for us all, how shall he not with him also freely give us all things? – Romans 8:32
A = Appreciate –  We all need to show gratitude to God for all that he has done for us on a daily basis. We have all heard the phrase " the little things mean so much", well that is true. Be grateful for things you never think about. Are you able to walk, talk, drive, see, hear, go to the bathroom by yourself without assistance of a wheelchair or human being? If so then you are already out of the starting gate doing well and we all know how that turned out for "American Pharoah" (the racing world's latest triple crown winner after 37 years this past Saturday at Belmont.
C = Charity – In our world nowadays there are multitudes of companies asking for charity. However you have to be selective and careful as to who you choose to help but you are required by God to assist. For ye have the poor always with you; but me ye have not always. – Matthew 26:11. A good man sheweth favour, and lendeth: he will guide his affairs with discretion. Surely he shall not be moved for ever: the righteous shall be in everlasting remembrance. He shall not be afraid of evil tidings: his heart is fixed, trusting in the Lord. His heart is established, he shall not be afraid, until he see his desire upon his enemies. He hath dispersed, he hath given to the poor; his righteousness endureth for ever; his horn shall be exalted with honour. – Psalms 112: 5-9
E = Empathy – We have all also heard the phrase "walk a mile in my shoes" but, would we really want to in some circumstances. There is a reason why God gave us two ears and one mouth so we can listen and share other people's feelings, experiences and emotions. "Before you criticize someone, you should walk a mile in their shoes. That way when you criticize them, you are a mile away from them and you have their shoes." – Jack Handey. Christian Books – Donna Louis – Peace.
Check out my book