Book Of Proverbs - Wisdom VS Wildnerness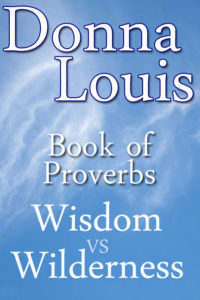 Coming Soon
Book of Proverbs – Wisdom vs. Wilderness delves into the necessity of obtaining wisdom. The primary purpose of the Book of Proverbs is to teach wisdom to everyone. The Book of Proverbs provides intellectual depth and insights and exceptional wisdom on how to live a fortunate and tranquil life, by honoring and respecting God as omnipotent.
As it is written, there is none righteous, no, not one: There is none that understandeth, there is none that seeketh after God. They are all gone out of the way, they are together become unprofitable; there is none that doeth good, no, not one. – Romans 3:10-12.
God wants us to live a life like Christ and to do that we need to aspire to have wisdom. King Solomon was the wisest man that ever lived. God gifted him with unsurpassed wisdom. King Solomon is credited with writing chapters 1-29 in The Book of Proverbs.
Book of Proverbs – Wisdom vs. Wilderness discusses all chapters in Proverbs 1-31 and brings insight, clarity, and basic meaning to several verses in each chapter to solidify why wisdom is essential and mandatory in life, so you can have a blessed life versus living destitute, empty, and obsolete.
Wisdom is the daughter of experience – Leonardo Da Vinci
Wisdom never comes to those who believe they have nothing left to learn – Charles De Lint
Intelligence is knowing the right answer, Wisdom is knowing when to say it – Tim Fargo
Turn your wounds into Wisdom – Oprah Winfrey
Cynicism is a sorry kind of Wisdom – Barack Obama
Knowledge speaks but Wisdom listens – Jimi Hendrix
Knowledge is horizontal, Wisdom is vertical, it comes down from above – Billy Graham
Don't gain the world and lose your soul, Wisdom is better than silver or gold – Bob Marley
The lotus is the most beautiful flower, whose petals open one by one. But it will only grow in the mud. In order to grow and gain wisdom, first you must have the mud --- the obstacles of life and its suffering. ... The mud speaks of the common ground that humans share, no matter what our stations in life. ... Whether we have it all or we have nothing, we are all faced with the same obstacles: sadness, loss, illness, dying and death. If we are to strive as human beings to gain more wisdom, more kindness and more compassion, we must have the intention to grow as a lotus and open each petal one by one. – Goldie Hawn