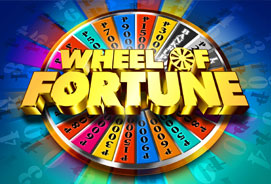 Christian Books – Donna Louis -Wheel of Fortune! Wheel of Fortune the beloved TV game has been a fixture on TV for over 30 years. The excitement of spinning the wheel and seeing what type of prizes, vacations, cars, money you can win or possibly hit bankruptcy has engaged people for a long time.
Certain letters have become the standard in the bonus round those being RSTLNE. So let's take a look at our puzzle below.
_ _ _ _ L   _ _  _ _ RT _ N _
Once we fill in the standard letters we could be stumped but if we take each group of  words and talk it out we will come up with the phrase Wheel of Fortune. The last group of letters being the giveaway. So let's take this puzzle and break it down on a spiritual level, and see what type of prizes and fortune are available to us everyday. Christian Books – Donna Louis – Wheel of Fortune.
W = Wisdom – King Solomon was the son of King David and God considered him to be the wisest man on earth. He was not only the most knowledgeable man to have ever existed he was also extremely rich, very renown, and one of Israel's greatest rulers. You can read the story of Solomon and his reign as king starting in the Old Testament 1 Kings Chapter 1. If we pray for wisdom God will provide this blessing to us. Christian Books – Donna Louis – Wheel of Fortune.
H = Happy – Behold, we count them happy which endure. Ye have heard of the patience of Job, and have seen the end of the Lord; that the Lord is very pitiful, and of tender mercy. James 5:11. If you have heard and read the book of Job you know of all his trials but, you also know in the end God restored all he had lost and blessed him tremendously. So we should always try to be in a state of happiness as this will bring blessings.
E = Enter – Enter into his gates with thanksgiving; and into his courts with praise:  be thankful unto him, and bless his name. Psalms 100:4. We should always enter into our daily prayer life with praise and thanksgiving for all God has done for us. Christian Books – Donna Louis – Wheel of Fortune.
E = Evil – See that none render evil for evil unto any man; but ever follow that which is good, both among yourselves, and to all men. 1 Thessalonians 5:15. According to the bible we are not to bestow evil on anyone who has done so to us. If we want to live the good life we cannot render evil for evil.
L = Love – And thou shalt love the Lord thy God with all thine heart, and with all thy soul, and with all thy might. Deuteronomy 6:5. This is the first and most holiest of all things. It is also phrased a little different in the book of Exodus chapter 20 verse 3, "Thou shalt have no other Gods before me." If we want to live the good life and prosper this is the first thing we need to acknowledge & obey.
O = Obey – A blessing, if ye obey the commandments of the Lord your God, which I command you this day. Deuteronomy 11:27. It clearly states you will receive a blessing if you obey the commandments of the Lord your God. Enough said, I don't think this needs further breakdown. Christian Books – Donna Louis – Wheel of Fortune.
F = Faith – Wherefore, if God so clothe the grass of the field which today is, and tomorrow is cast into the oven, shall he not much more clothe you, O ye of little faith? Matthew 6:30. We all have our times of testing and trials but, we cannot allow our faith to falter.
F = Forgive – Judge not, and ye shall not be judged:  condemn not, and ye shall not be condemned, forgive, and ye shall be forgiven. Luke 6:37. We all at one time or another have done something to offend or hurt someone. If we want to receive forgiveness we need to bestow forgiveness. Christian Books – Donna Louis – Wheel of Fortune.
O = Own – What? know ye not that your body is the temple of the Holy Ghost which is in you, which ye have of God, and ye are not your own? 1 Corinthians 6:19. We all think that we possess everything we have but we don't. When we leave this earth we cannot take anything with us. It doesn't matter what type of arrangements you make with your funeral director he isn't going to place any or all of the money you have in your casket with you! Our bodies are not our own and when we die we will have to give an account for all of the destructive things we did to it.
R = Rule – He that hath no rule over his own spirit is like a city that is broken down, and without walls. Proverbs 25:28. We cannot allow our desires to rule us, we need to learn how to contain ourselves and live in a godly fashion. Christian Books – Donna Louis – Wheel of Fortune.
T = Trust – Trust in the Lord with all thine heart, and lean not unto thine own understanding. In all thy ways acknowledge him, and he shall direct thy path. Proverbs 3:5-6. I spoke about this in one of my previous blogs "Roller Coasters". We have to learn to trust our heavenly father above all else because he created us and knows what's best for us.
U = Understanding – So that thou incline thine ear unto wisdom and apply thine heart to understanding. Proverbs 2:2. For the Lord giveth wisdom:  out of his mouth cometh knowledge and understanding. Proverbs 2:6. The word understanding appears in the bible (KJV) 160 times. That alone tells us that this word and it's meaning is something God wants us to get down deep in our spirits to live a favorable life. Christian Books – Donna Louis – Wheel of Fortune.
N = Name – A good name is better than precious ointment; and the day of death than the day of one's birth. Ecclesiastes 7:1. To have a good name we have to live a good life. Treat others in the way we wish to be treated, give of ourselves, our money, and our time. We have been blessed to have many examples of persons like this:  Mother Teresa, Oprah Winfrey, Nelson Mandela and many more.
E = Endure – For his anger endureth but a moment; in his favor is life:  weeping may endure for a night, but joy cometh in the morning. Psalms 30:5. One of the main components for a runner involved in a race is endurance. We have to have that same endurance when under trials and tribulations in our earthly life so we can win the race in a godly fashion.
We all can create our own Wheel of Fortune if we just follow biblical principals and enjoy the life that God has given us.
Check out my book